---
NATIONAL YOUTHS COUNCIL OF OGONI PEOPLE, NYCOP SET TO REGULATE ACTIVITIES OF OGONI YOUTH GROUPS.
Written by wave FM on January 18, 2021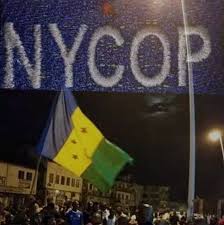 The National Youths Council of Ogoni People, NYCOP, says it will regulate activities of the Ogoni youth groups by ensuring they register  under it as an umbrella body.
The newly-installed President of NYCOP, EMMANUEL BARINUAZOR, said this in an interview with journalists on the sidelines of an inauguration ceremony in Tai Local Government Area.
In a remark, the immediate-past President of the Doctor YOUNG NKPAA said some Ogoni elites had dumped the intellectual aspect of the Ogoni struggle.
Doctor NKPAA, who doubles as the Publicity Secretary of one of the factions of the Movement for the Survival of Ogoni People, had earlier handed over to BARINUAZOR in a ceremony.
In a separate interview with journalists, the Kingdoms Coordinator of NYCOP, JOSEPH KAATE called on all Ogoni to unite for the development of the ethnic group.
---
Reader's opinions
---