---
RIVERS STATE GOVERNOR, NYESOM WIKE ADVISES FEDERAL GOVERNMENT TO FUND EAST WEST ROAD FROM SOVEREIGN WEALTH FUND
Written by wave FM on December 10, 2020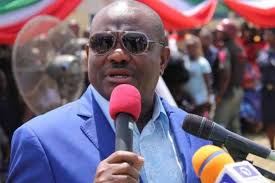 By Chinwendu Nwani
The Rivers State governor, NYESOM WIKE, has advised the Federal Government to include the East West road among the critical infrastructural projects being funded from the coffers of the nation's Sovereign Wealth Fund.
The governor, also said the Federal Government's directive stopping State governments from funding the construction or rehabilitation of failed federal roads is inimical to the effective development, management and maintenance of road infrastructure across the country.
He made this assertion in his opening address at the 26th meeting of the National Council on Works in Port Harcourt.
The Governor pointed out that the East West road which is too important to the economic prosperity of the South-South region and the nation has been under construction for over 15 years, yet a completion date is still not in sight.
Governor WIKE urged Federal Government to urgently consider funding the East-West Road from the Sovereign Wealth Fund to guarantee its completion by 2022 as being taunted by the Minister of the Niger Delta.
Minster of Work and Housing, Babatunde Fashola said the covid-19 pandemic brought to the fore the importance of human mobility to the health of any economy with the urban poor appearing to be the worst hit as a result of the lockdown.
---
Reader's opinions
---